Posted by Devi Grewal on 27th May 2022
Whether your home office is a purpose-built pod in the garden or a corner of the kitchen table, you've probably been spending a lot more time there over the past couple of years than you ever anticipated. Home-working (or WFH) became the new normal during the COVID crisis and we're now seeing a more permanent shift in this direction.
So, with this in mind, there's no time like the present to invest in making your home-working space a wonderfully pleasant place to be! But where to start?
We're here to help with some fabulous home office design inspiration ideas. In this post we showcase 10 impactful home office interiors that are sure to get your creative juices flowing. To ensure we've got everyone's tastes covered, we've pulled together a wide range of unique home office décor, furniture and accessory inspiration. From stylish old school vintage offices featuring antique style office furniture to ambitious jungle themes. From calm corners with striking colour splashes to sumptuous kitchen offices, and a veritable wealth of stylish options in between.
And not too surprisingly, we believe that it's the little details that really bring a space to life, and no detail is as small (and useful) as your waste paper bin.
Home office style: match your room with the perfect bin
Our waste paper bins are objects to be appreciated, not hidden away. They're so gorgeous that catching sight of yours under your desk will bring a little blip of pleasure to your day!
So we've matched ten home-working style ideas with ten of our waste paper bins, to help you find the perfect fit.
1. Old school home office design
Confidently classic, professional and easy to achieve, our retro home office design matches retro style home office furniture, monochromatic colours and our artistically vintage wastepaper bin.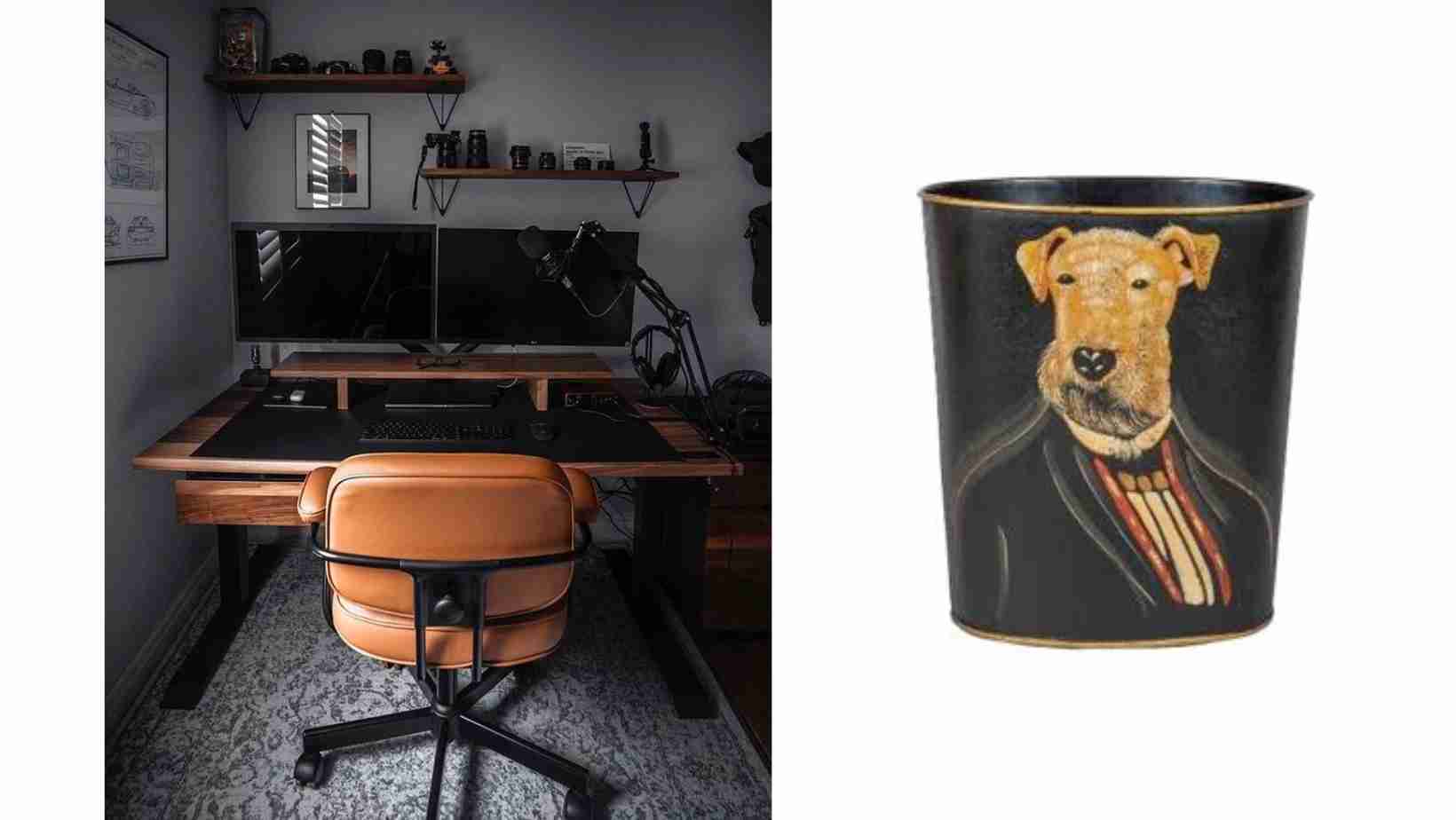 Office image credit: https://www.instagram.com/p/CFMcYj6gIyd/
A leather desk chair, a dark wood desk and a soft grey colour scheme – it's classic, professional and easy to achieve. Our vintage style Professor Airedale waste paper basket, featuring an urbane hound in a tux, is also a classic, and adds a touch of suave personality to even the most sombre offices.
2. Jungle fever home office
This stress-reducing nature inspired home office design is designed to maximise the space and your creativity, matching clean décor, modern furniture and our autumnal floral waste paper bin.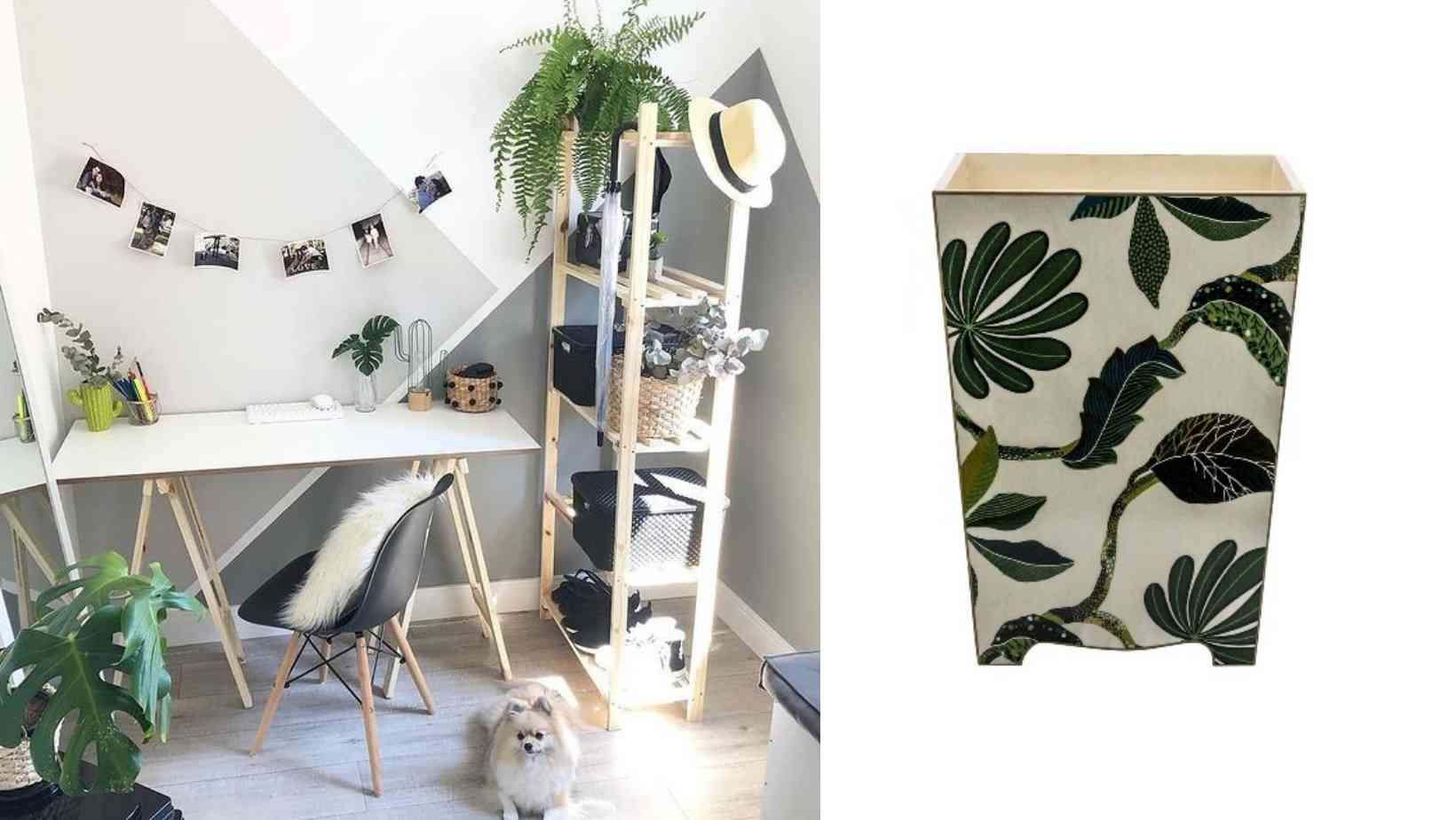 Office image credit: https://www.instagram.com/p/CFNsnCCjeJs/
Clean white walls and simple modern furniture make for an inviting workspace where it's easy to concentrate. Adding in some greenery really lifts the space and can help with productivity – several scientific studies have backed up the importance of having living plants in offices. Our Autumnal floral waste paper bin carries on that theme with its trailing green vines.
3. Antique style
Ensure your antique office desk takes centre stage, by complimenting it with a stylish rattan waste paper basket for inimitable style that will never go out of fashion.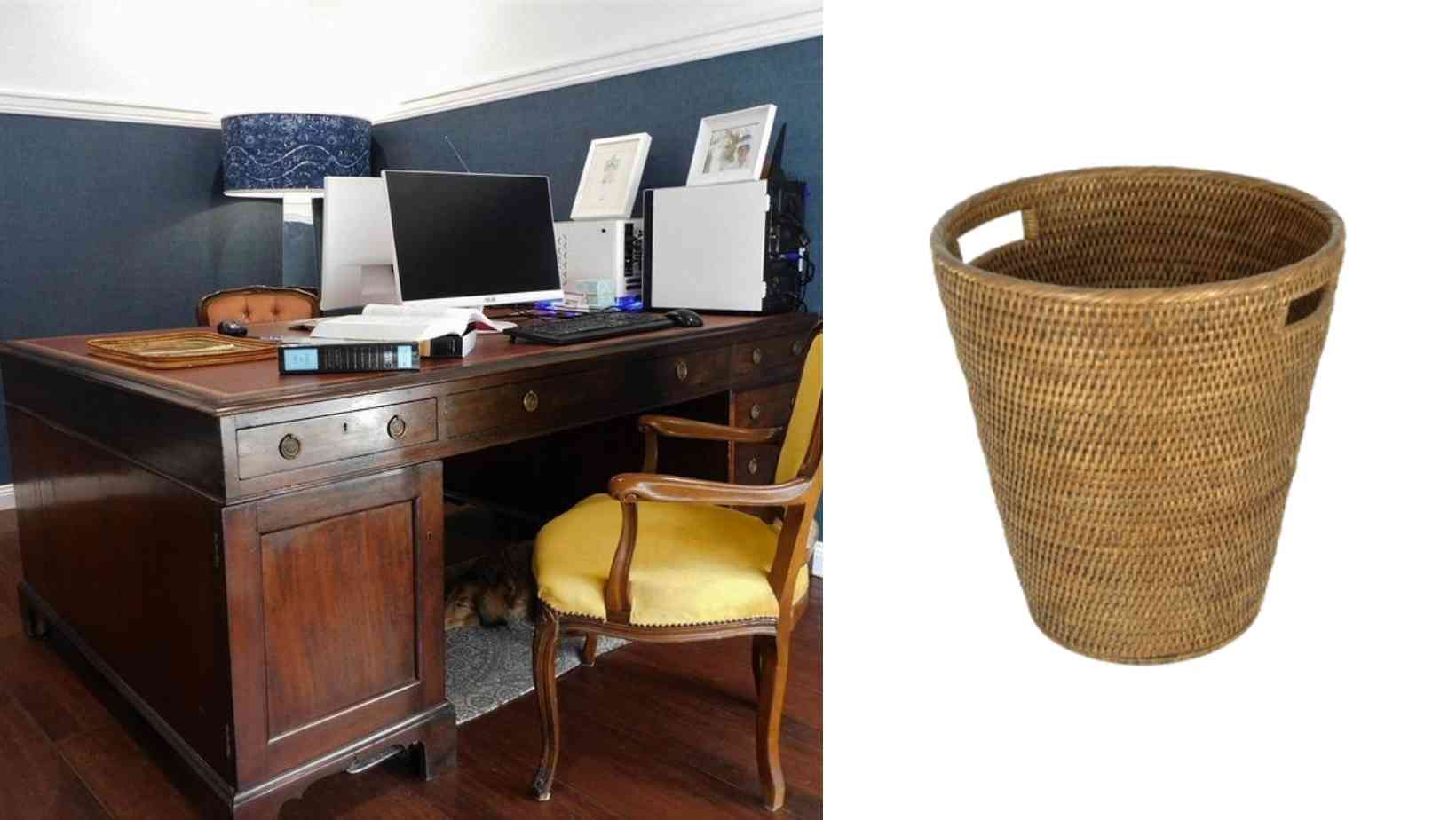 Office image credit: https://www.instagram.com/p/CFBz4CVgVpD/
A traditional antique desk is an attractive piece of furniture in its own right and deserves to be centre stage in a room. A simple rattan waste paper basket is a practical solution that blends in with wood furniture.
4. A quirky office corner
There's no reason why your office desk area can't be a unique addition to your current room's style, especially with our arty decoration ideas and our boldly stylish art deco waste paper bin.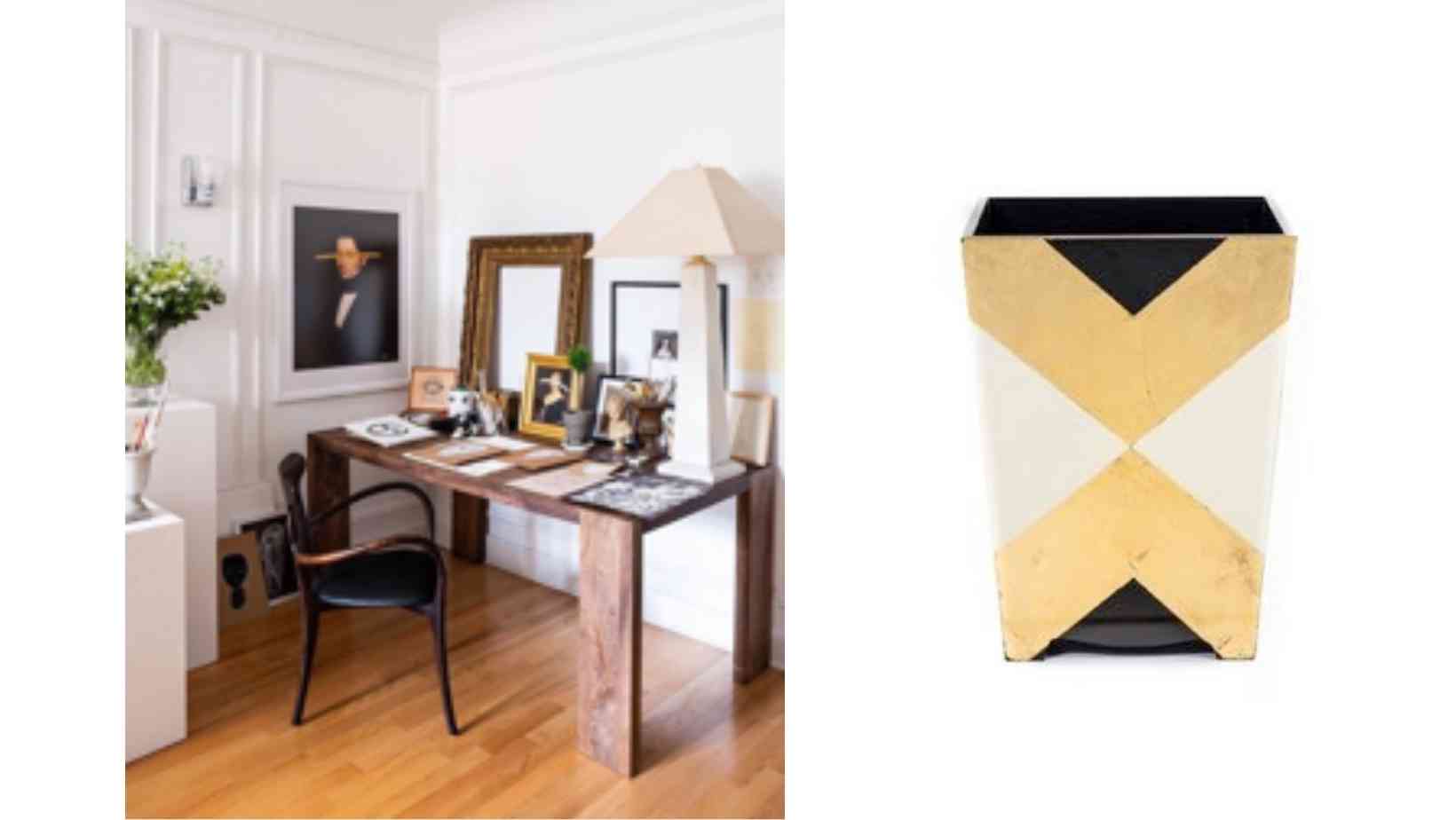 If you don't have a separate room available for a home office, you'll need to blend your workspace into the décor in another room. But there's no reason a desk area can't be unusual and attractive, like this set up that uses art to decorate the desk. Our Art Deco waste paper basket is a gorgeous addition to any room, a work of art in its own right.
5. Floral explosion
Get an uplifting creativity boost, with bold colour splashes to compliment floral accessories and our Florentine Rose floral waste paper basket to match.
This uplifting workspace uses a bold turquoise on the desk and loads of colour from flowers in pictures and decorations. The result is a creative and inspiring space. Our Florentine Trailing Rose waste paper basket would fit right in.
6. Colour splash
A bright splash of colour, incorporated in a clean and simple scheme, provides the ideal blend of working energy whilst enabling you to switch off at the end of the day.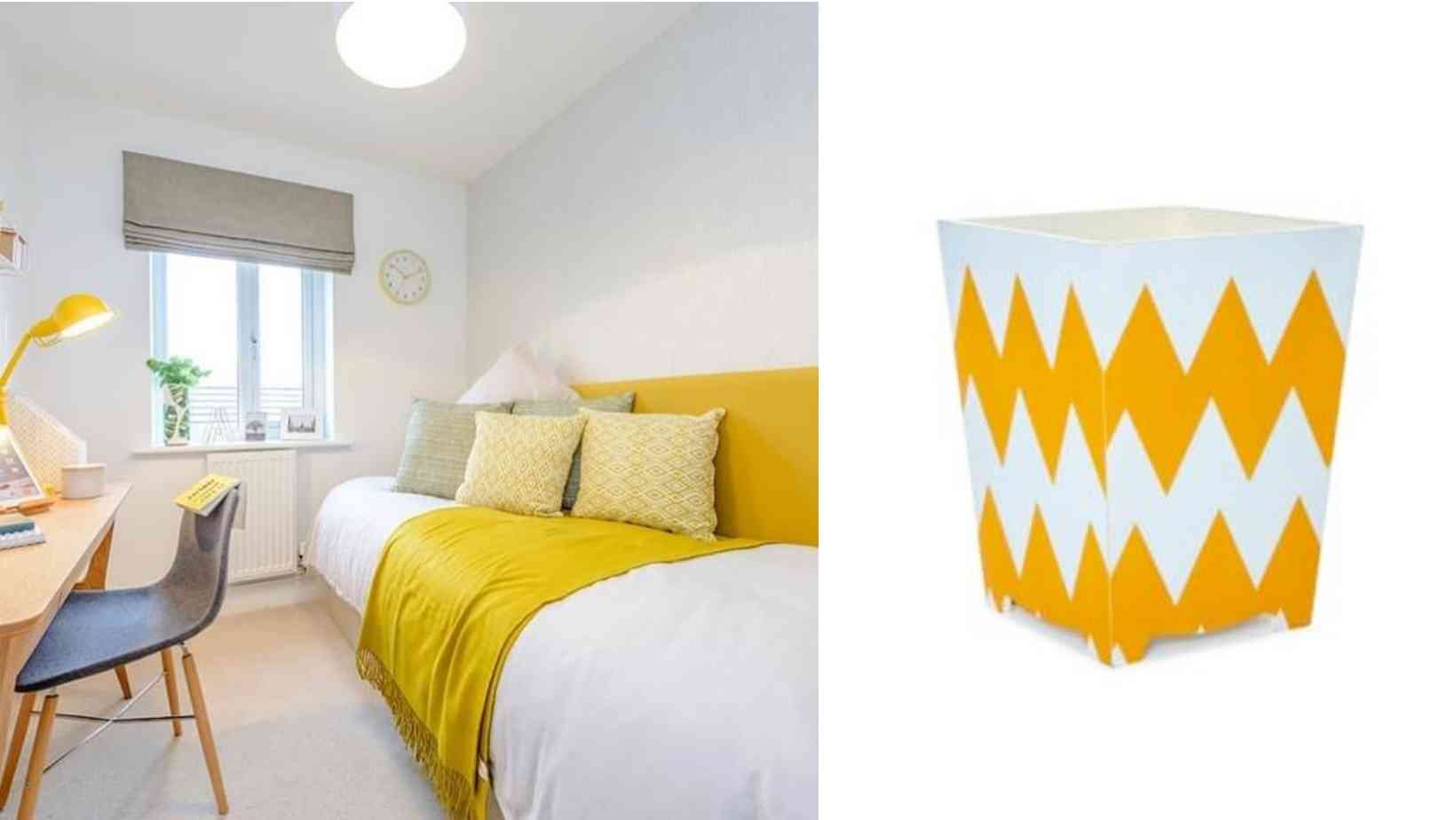 Office image credit: https://www.instagram.com/p/CETkrdKJhqn/
If your home office is in a bedroom, you probably want to keep it simple and clean so that you can switch off from work at the end of the day. A white desk blends in with white walls, and using a splash of a bright colour can make the space uplifting. Our Zig Zag Moderne is the bin for this room – intense yellow in sunny zigzags on a white background.
7. Made in monochrome
Effortlessly blend your home office into another space, with minimal coordinating colours and a veritable chameleon of a home accessory - our stylish rattan monochrome waste paper bin.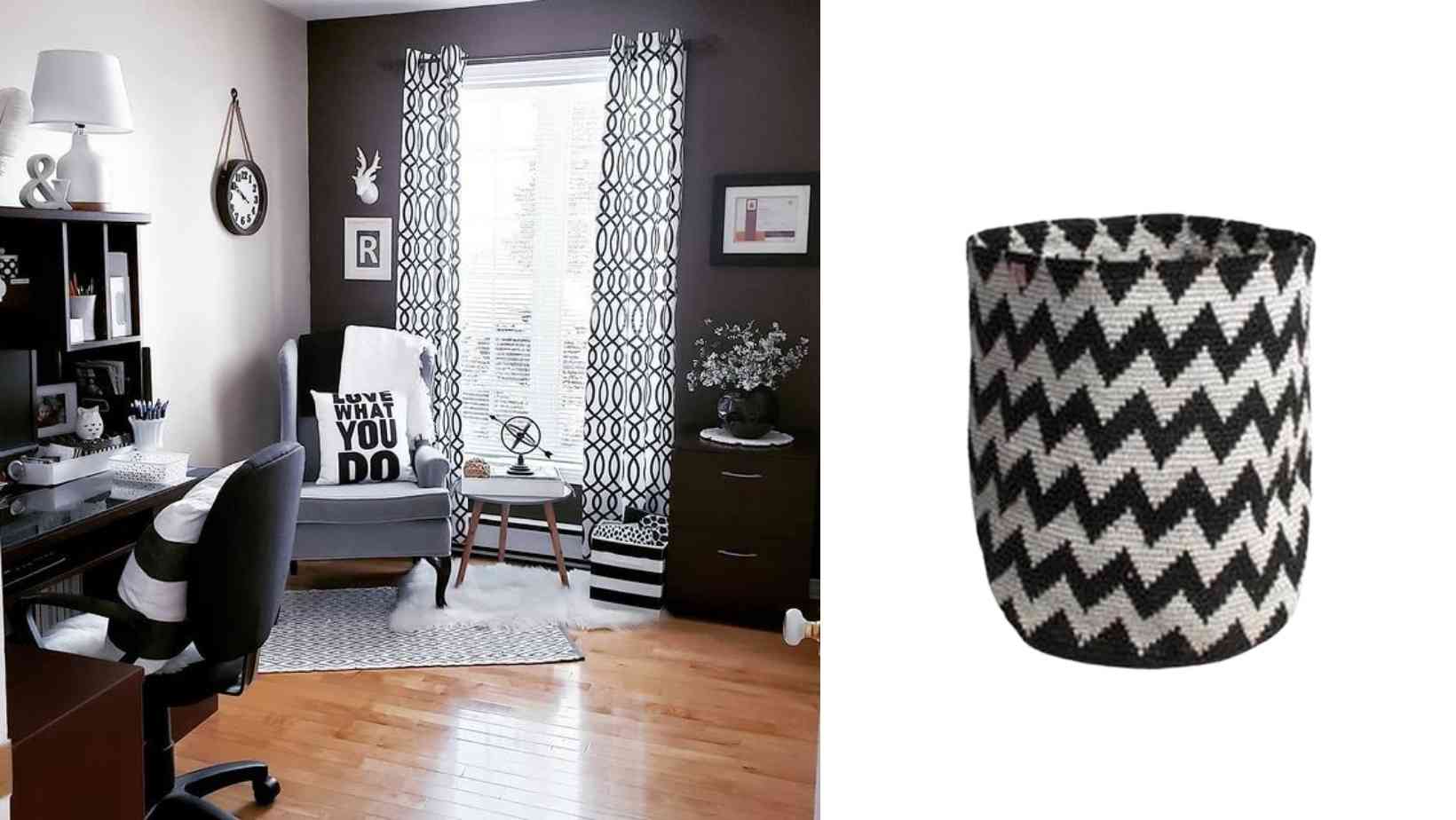 Office image credit: https://www.instagram.com/p/B8tgG3OHD59/
Keeping colours to a minimum can make it easier to blend a home office into another space in the house, like this monochrome room with a black desk. This stylish black and white rattan bin complements the minimal colour scheme.
8. Kitchen sink office drama
Even when you're working at your kitchen table, your working space can be attractive and professional with our kitchen office ideas and a warming gold waste paper bin.
Even it you are working at the kitchen table, there's no reason your space can't be attractive and professional. Keep office accessories in single colours to blend in, like this attractive warm bronze waste paper bin. Our gold waste paper bin is made from actual metal (unfortunately not actual gold), so it's easy to keep clean in the kitchen too.
9. An office down the garden path
Bring the best of the outside world in, with our home office shed ideas and a floral waste paper bin for an eclectic look.
If you're lucky enough to have a home office shed in the garden, bring a little bit of the wild inside with a floral waste paper bin like this Butterfly design. This design works beautifully in an eclectic room with a mix of old and new furniture.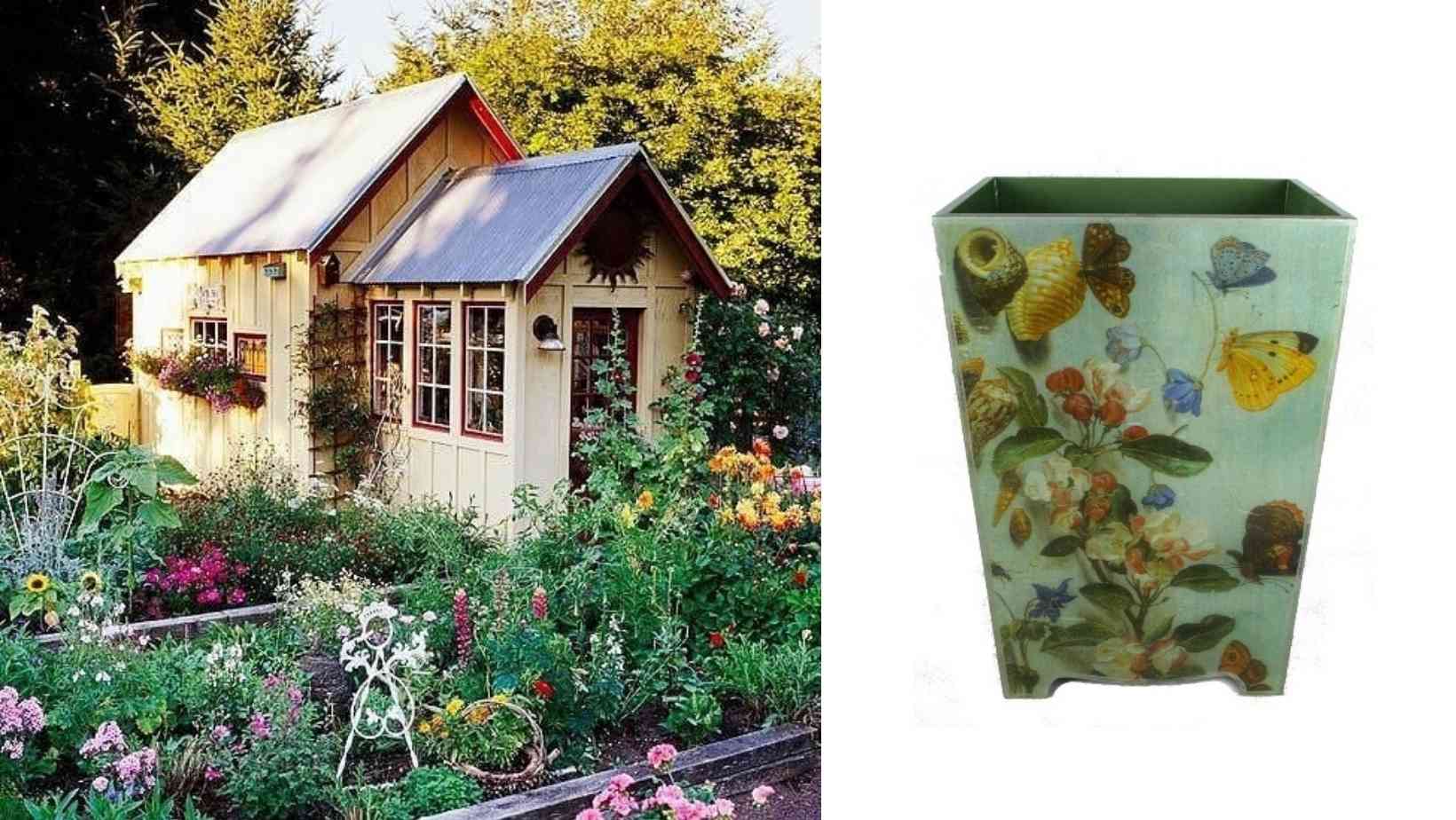 10. Cupboard love
Squeeze as much style in, without squeezing yourself out, with our cupboard office ideas and our unique upcycled / recycled waste paper bin (or storage basket).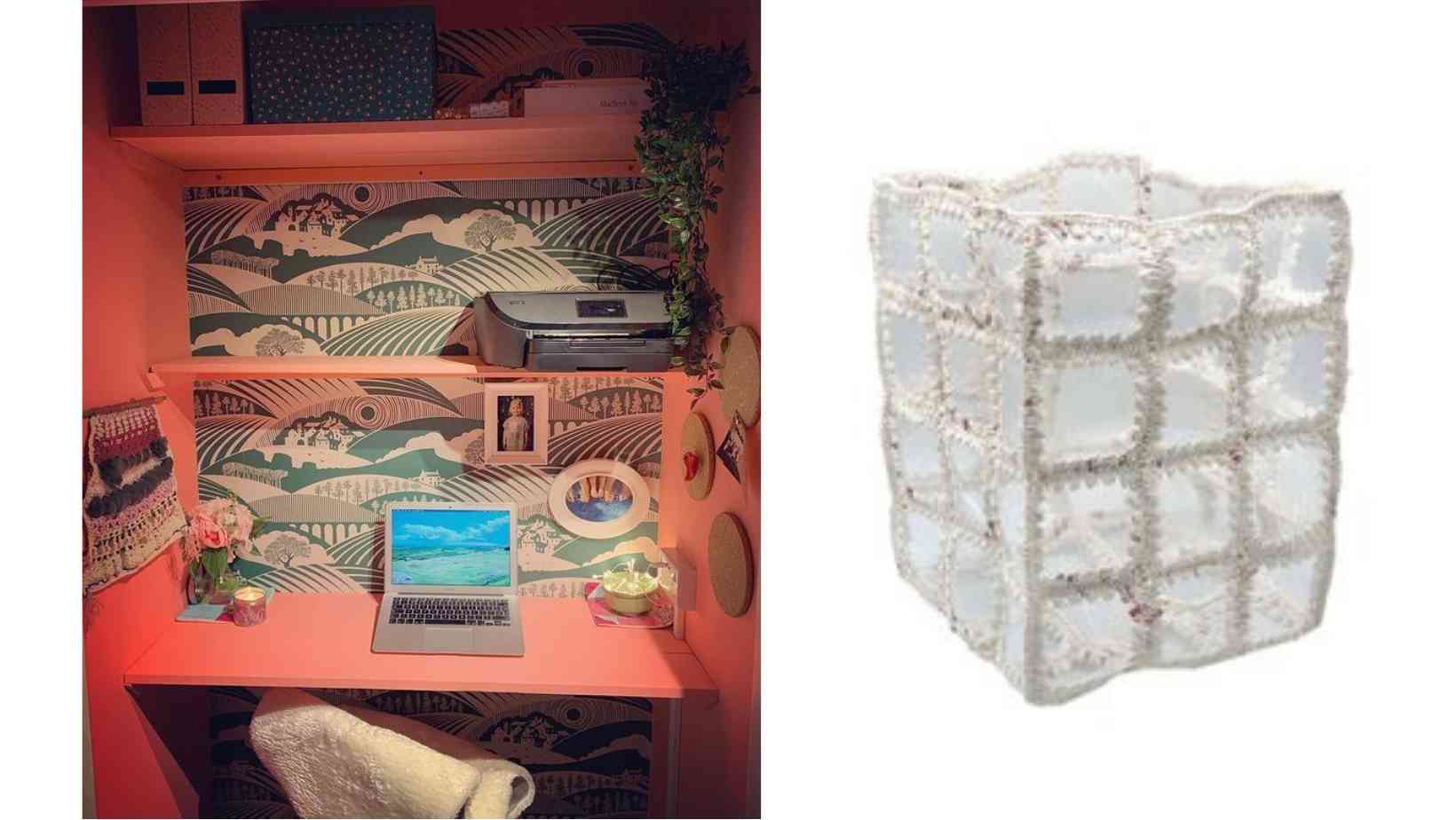 Office image credit: https://www.instagram.com/p/B447RHZBTN6/
If you have limited space for a home office, like this neat little office in a cupboard, there's no reason you can't still squeeze in some accessories. This unique upcycled bin is square-shaped and slightly flexible, as it's made from recycled plastic bottles and bags crocheted together with plastic. Its shape makes it ideal for tucking away under a desk in a restricted space.
You can also check our luxury vintage waste paper bins ideas >>