Heritage maximalism is the latest trend in interior design that's making waves across the world. There are theories aplenty about the specific flavour rocket fuel propelling it's rise. Some feel its a reaction to the austerity and anxiety of recent years, much akin to the roaring 20's flaring onto the scene after WW1 and the Spanish flu. Other's view it as a result of the cultural zeitgeist's zeal for all things resplendent and royal, demonstrated by the success of hit shows; Succession, Bridgerton, Queen Charlotte and The Crown. There are also those who view it in purely aesthetic terms, as a push back against the bareness of the recent minimalist era.
For Must Have Bins, Heritage Maximalism is no mere trend, but the style at the very core of our aesthetic. We feel it has gained such widespread popularity out of merit! Proponents of this eclectic style mix traditional elements with contemporary flair to create spaces that are both visually stunning and deeply personal.
In this blog post, we'll explore where heritage maximalism came from and how it is taking the interiors world by storm. We'll also share some of our favourite examples of heritage maximalist interiors and room accessories. Get ready to enjoy bold colours, intricate patterns, and layers upon layers of texture – because in the world of heritage maximalism, more is definitely more!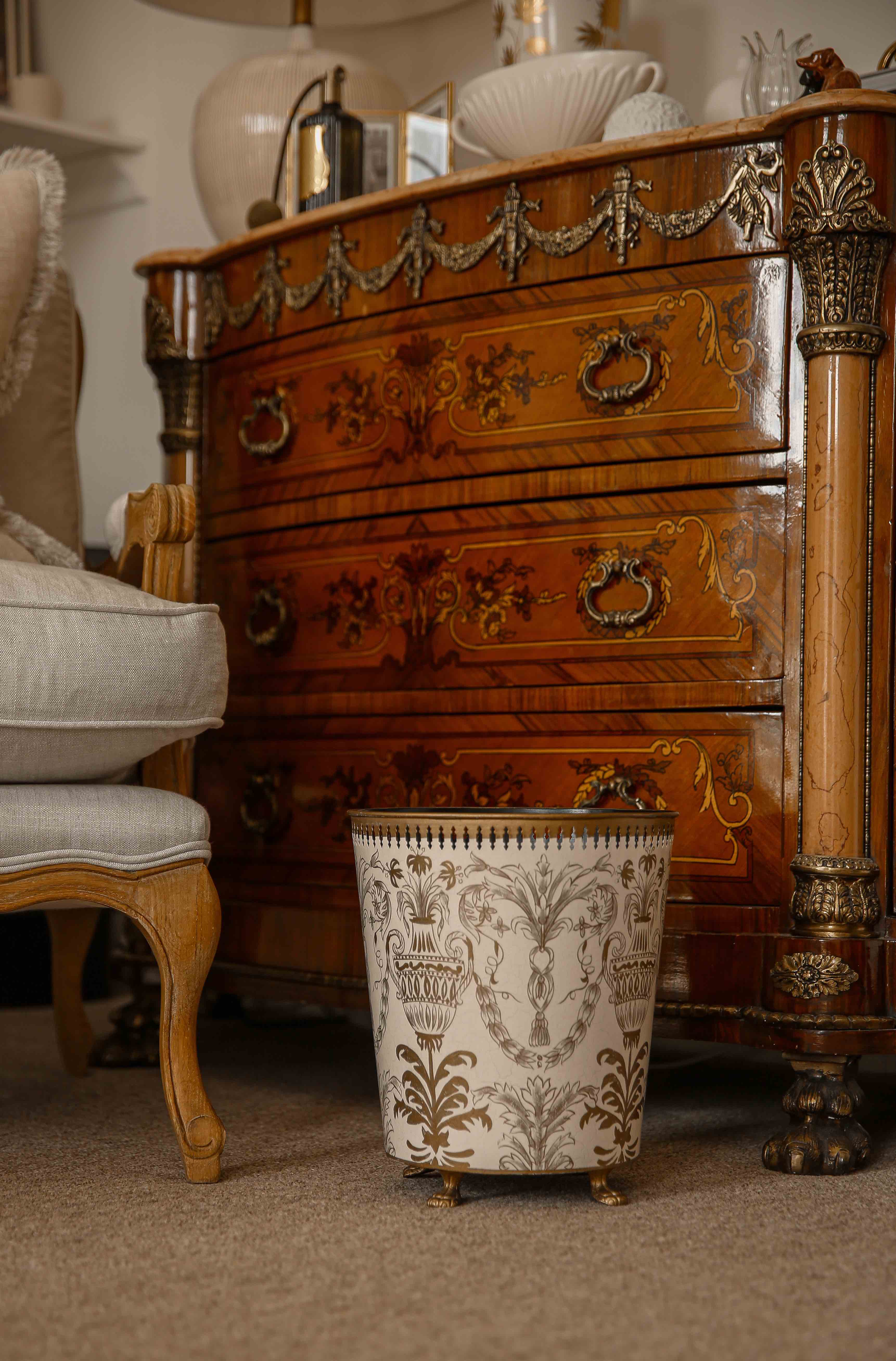 What is Heritage Maximalism?
The fusion of two existing styles; Heritage and Maximalism, characterised by an abundance of rich, historic details and luxurious materials. Heritage maximalist spaces are often opulent and dramatic, with a strong sense of luxury and refinement.
Breaking it down further, we dove into the magical world of Maximalism, with it's roots in traditional design styles such as Baroque and Rococo, in this blog post. This style is all about vibrance, fun and showcasing the things you love.
To get the measure of Heritage style, first picture all the things you associate with stately homes and royal properties. Then, tone it down a touch so it's not quite palace-level-lavish and more of the country manor style, with classic features and furniture that speak to English elegance.
Popular features of the timeless and classic Heritage style include floral patterned wallpaper and fabrics, for example the classic chintz we associate with royals. Also, wall panelling in subdued colours and striped wallpaper in muted tones. Overall, Heritage decor is about creating a cohesive style that's very easy to live with.
When bonded together, these styles are truly exquisite, and never fail to enchant. If you are looking to create a truly dramatic and luxurious space, Heritage Maximalism is the perfect style for you.

Ideal Heritage Maximalist room accessories would be our Festoon Bin in wine, our Gatsby waste paper basket, our Eastern Swirl waste paper bin and our Scroll bin in mustard.
Why is it so popular right now?
These past few years has seen a confluence of trends, cultural and historic events (particularly the recent crowning of our new King) that have created model conditions for Heritage Maximalism to thrive.
In addition to those we've mentioned already, there's also our building focus on sustainability. With the environmental focus in vogue across all genres of style - and very rightly so! - Design that prioritises quality and heritage over fast-fashion-tat is thriving.
We are moving away from the clean minimalism that's been so popular in these austere and isolated years, towards the bold, beautiful colours of maximalism. All the while, bringing the highlights of the past with us through incorporating heritage designs.
As such, Heritage Maximalism fits neatly into the current landscape and this hybrid of styles is perfectly suited to be the first major trend of the new Carolean era. We, as a nation, find ourselves looking to the future, with the desire to invite celebration and fun into our homes.

Some fabulous heritage maximalism room accessories include these wooden trays and gold and ivory charger. Pictured from left to right is our Savage Garden birch tray, our Royal Florentine gold and ivory charger and our Pink Botanical wooden tray.
Why do interior designers love this trend?
Designers love this style because it creates authentic, fun spaces which are impossible not to love. Incorporating the old, but adding the bold with bright colours, varied textures and pattern mismatching. While Heritage pieces can be found in antiques stores or stately homes, it's the Maximalist details that add a level of fun and allow the regal style to feel utterly accessible and at home in your home.

This bold William Morris inspired floral design is the perfect fit for your Heritage Maximalist interior. Find it on our website here.
Examples of Heritage Maximalism interior design
The library of Ann and Gordon Getty's San Francisco residence has several fabulous Heritage Maximalist features. The key elements include an array of stunning heritage furniture and artwork, along with textiles of various textures and hues that lend the setting an air of comfortable refinement.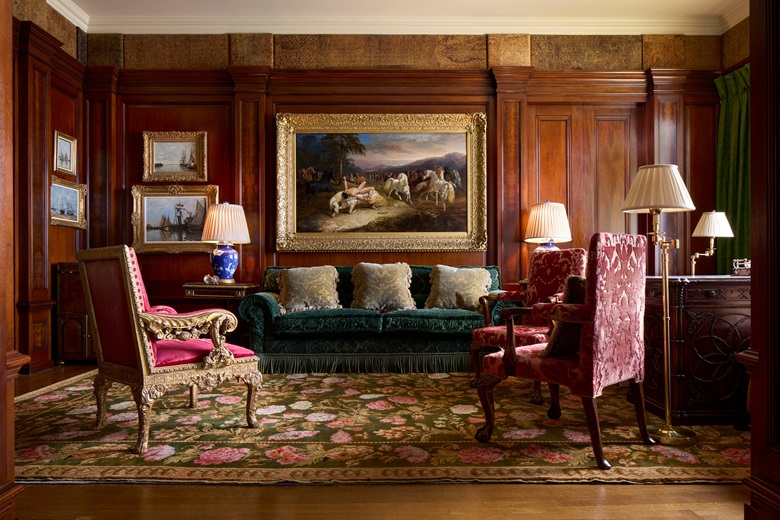 The library of Ann and Gordon Getty's San Francisco residence featuring works from The Ann & Gordon Getty Collection. Photograph © 2022, Visko Hatfield

Stunning library bins from left to right: World Map, Professor Airedale, Butterfly Bin.
This gorgeous green and pink interior by Maria @theinterioreditor features several Heritage Maximalist touches. Firstly, the interior mixes different patterns and textures to create a cozy, inviting space. On top of this, there are the floral wardrobe doors, use of vibrant block colour on the walls and doors, a heritage style dressing table and our Florentine Giardino waste paper bin.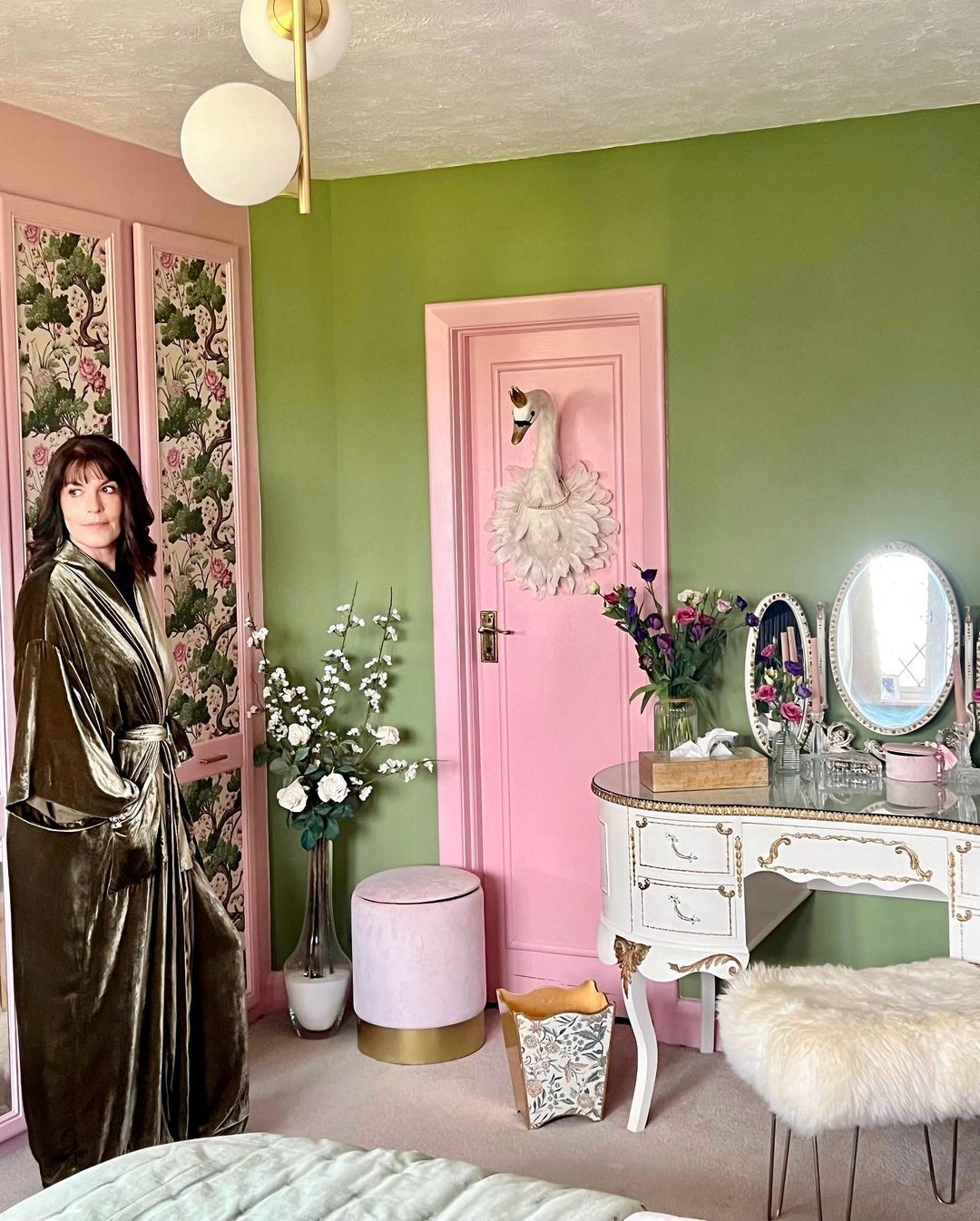 The Turkish room of Ann and Gordon Getty's San Francisco residence has a host of delightful features including painted wood panelled walls, patterned textiles galore and antique light fixtures.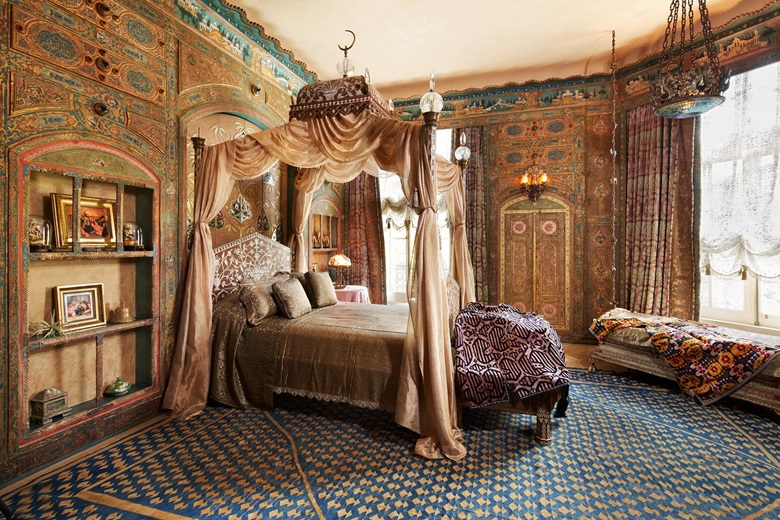 Installation view, the Turkish room of Ann and Gordon Getty's San Francisco residence featuring works from The Ann & Gordon Getty Collection

Divine bedroom waste paper bins from left to right: Florentine, Royal Rococo, Decoupage Lattice and Royal Florentine.
Another stunning Heritage Maximalism interior by Maria features period furniture, bold floral wallpaper, and characterful paintings that depict old world themes with a modern twist. Also our round tapered butterfly bin with fine filigree trim and brass feet.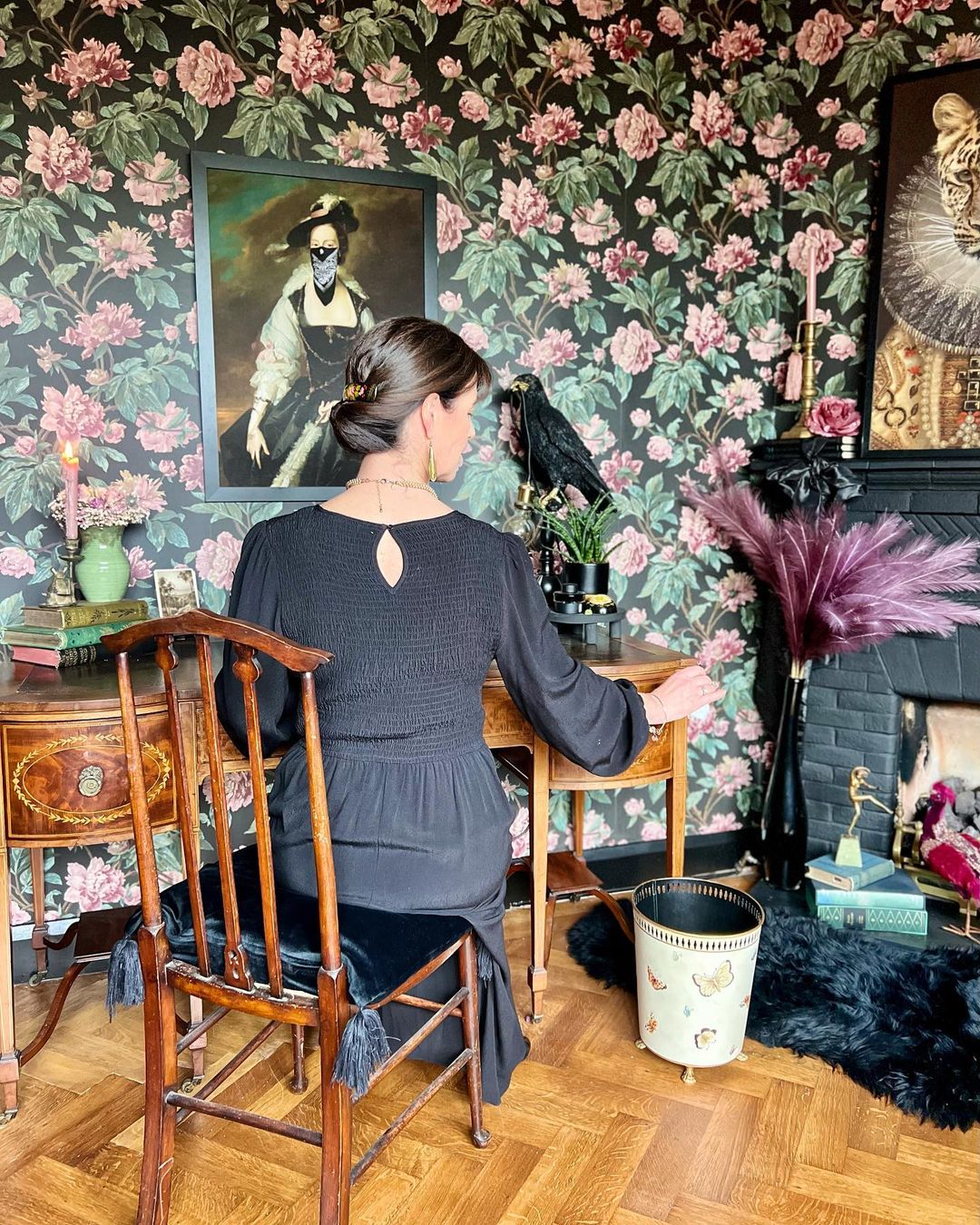 The blue parlour exhibits a fun element of the trend which is the ability to mix and match different styles. In this interior, we see the styles of the paintings vary, yet they sit comfortably together because they are housed in similar striking gold frames. Another dash of merriment is brought to the interior by some striking blue wood wall panels and vibrant patterned window dressings.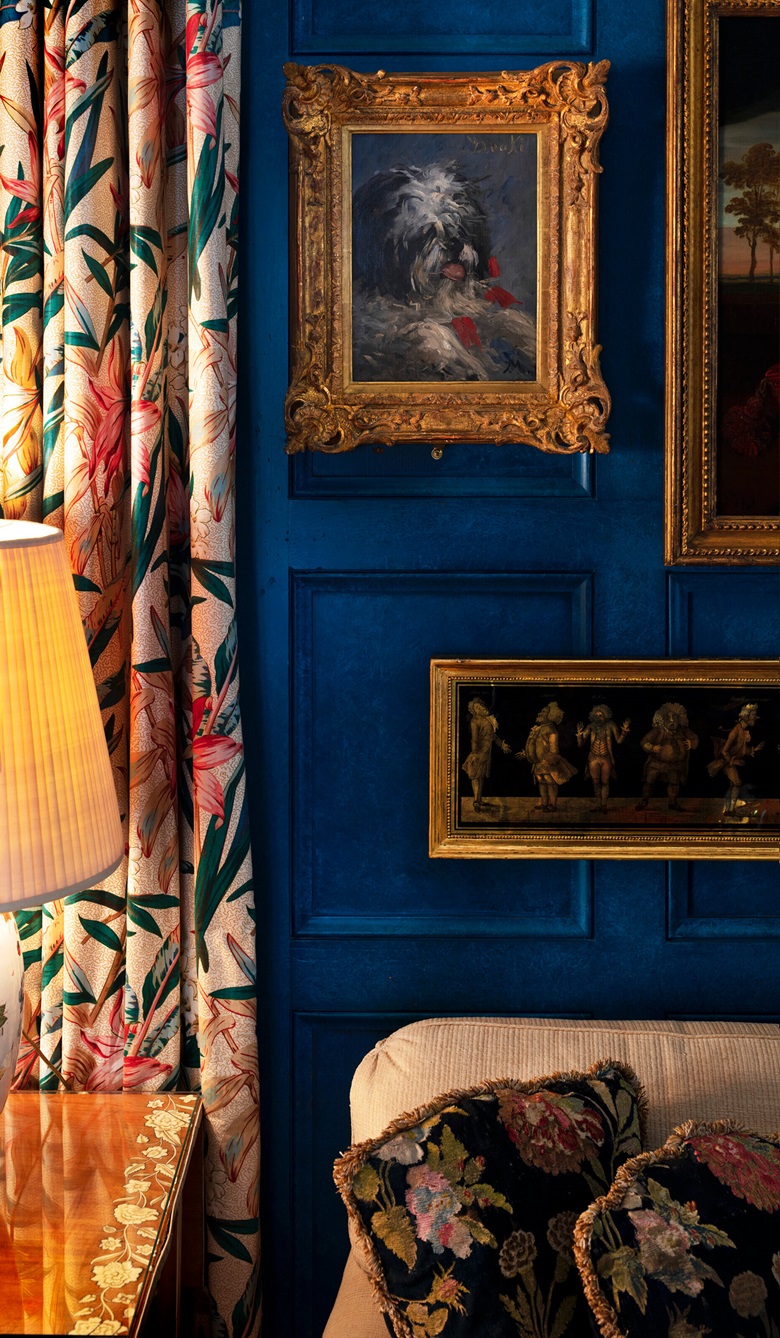 Installation view, the blue parlor of Ann and Gordon Getty's San Francisco residence featuring works from The Ann & Gordon Getty Collection. Photograph © 2022, Visko Hatfield
This setting mixes textures, prints and patterns with stylised artwork to create a space that's cosy and characterful in equal measure.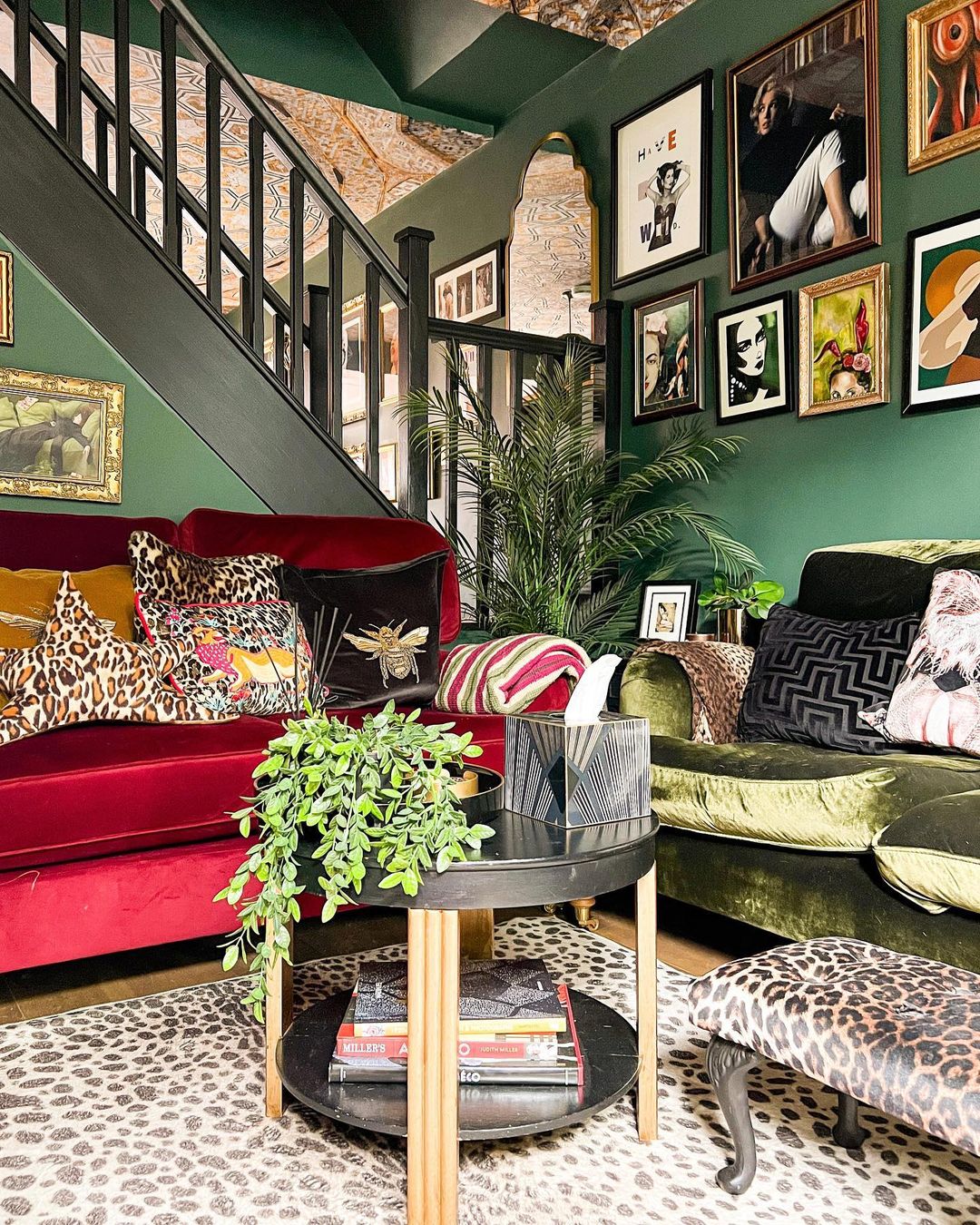 At Must Have Bins, we have always been inspired by the great artistic genres of history and are passionate about showcasing these in our pieces. We often use production methods of the past, which have been passed down through generations to create heirlooms of the future. From ornate patterns to vintage designs, we love how heritage maximalism celebrates history, culture, and individuality like no other design movement before it.
And as you can see, Heritage Maximalism is a great way to add character and colour to the home. It provides an opportunity for homeowners to reflect their own personalities and tastes through carefully chosen pieces of furniture, artwork, and fabrics.

Pictured left to right: Cactus, Monochrome and Gold Art Deco and Autumn.
By reviving traditional designs with modern twists, heritage maximalism can help create an atmosphere that feels both familiar yet fresh. Whether you are looking for a complete redesign or just want to inject some life into your existing space, embracing this trend could be the perfect solution.
Want to find the perfect accessories for your Heritage Maximalist interior? Browse our range for something that speaks to you, or get in touch to talk to us about a bespoke item to fit your room perfectly.