This month we have launched two enchanting new collections to the Must Have Bins range that we are extremely excited about. Both collections feature stunning drinks and dining trays with designs inspired by nature, craft cultures of the East and historical artistic styles.
The Natural World Collection by Daniel Embleton
Daniel is a young graduate from Northern England who's already been making waves on the design scene since graduating with a First-Class BA(Hons) Surface Pattern and Design degree last summer. In addition to working with international galleries and trade shows, Daniel boasts a multi award-winning design portfolio that's been liked by a plethora of prestigious companies in the interiors market ranging from Liberty to Envy Interiors.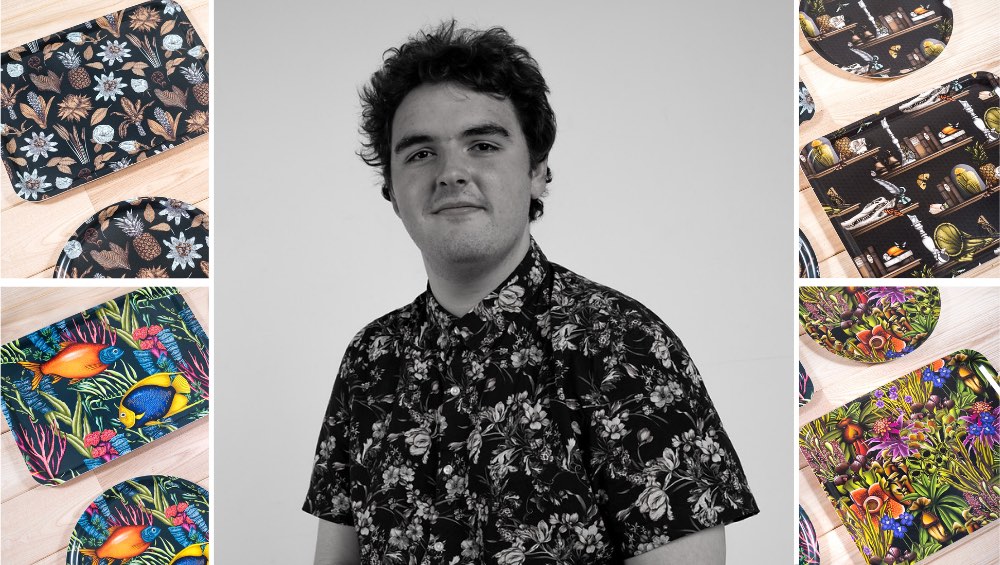 Having studied graphics, photography and textiles at college, Daniel found his passion to be textile design and the creation of bold, opulent artwork for interior settings. Daniel's work is mainly created digitally with hand rendered imagery being the initial starting point, usually in fine liner. Daniel's other passions include gardening, traveling, cooking, and visiting museums, which often inspire new collections of designs adding personality and charm to his artwork.
Daniel's designs are often admired for their exquisite details and compositions that capture one's imagination and give a room a fabulous talking point.
The Natural World Collection features four beguiling designs by this wonderfully talented English surface pattern designer. The designs take inspiration from nature and the artistry of the Victorian era and each one encapsulates Daniel's passion for creating dramatic, sophisticated, bold and thought provoking imagery.
Daniel's artwork is printed on natural birch backs made in Sweden. Each design is available as a small round drinks tray as well as a larger rectangular dinner tray. View the Natural World collection here.
The Art Indya Collection by Vineeta Nair
Vineeta Nair is an inspirational creative talent from South India who we've had the privilege of collaborating with since 2011.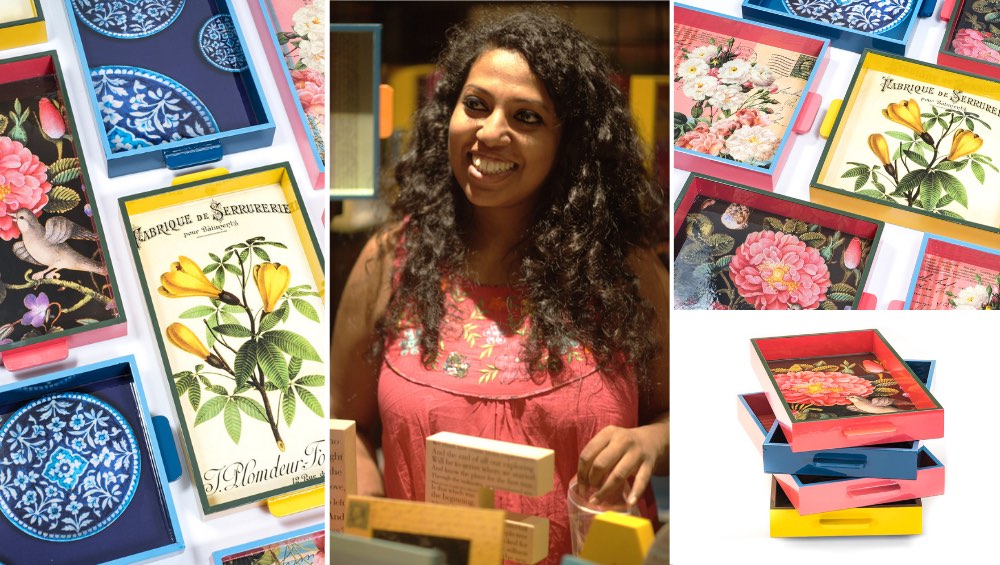 Driven by a passion to share her love of design, décor, art and India with the world, Vineeta left a successful career in advertising to found lifestyle blog Artnlight in 2007.
While immersing herself in the creative world through her blogs, Vineeta found the time and inspiration to develop her design skills and began producing home accessories in 2009. Through Vineeta's dedication and talent, Artnlight became a hugely successful brand with a global presence spanning India, London, Singapore and Dubai.
Vineeta's influences include Eastern art, travel and the uniquely talented artists she connects with along the way. Especially close to Vineeta's heart is the state of Rajasthan, busting at the seams as it is with heritage crafts such as painting, embroidery, textiles and beautiful architecture. Vineeta has spent many a day exploring the myriad of royal Palaces of the area.

These influences result in charming, colourful designs with a vibrance that never fails to attract ones attention. Characteristic of Vineeta's artwork is the layering of typography, florals and patterns, along with the use of contrasting colours that bring an added dimension to the piece.
We work with our Spanish workshop to make Vineeta's designs for our Art Indya Collection. All pieces are hand made from sustainably sourced wood and hand painted. Vineeta's gorgeous artwork is then applied with the decoupage technique, where the printed design is applied to the wooden surface with layers of lacquer to seal the artwork.
Vineeta's designs can be found on a wide range of Must Have Bins pieces, from waste paper baskets & tissue boxes to our delightful new Art Indya tray collection. View the collection here.

Want to find a room accessory for your home? Browse our range for something that speaks to you, or get in touch to talk to us about a bespoke item to fit your room perfectly.